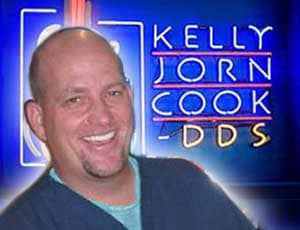 In the face of increasingly common dental "salon and spa", I am often asked why I have a rock and roll dental practice. First, it's what I love. It's who I am. I love music: live music, local music, the music in my head. I love how it brings people from all walks of life to the same playing field. My patients feel at ease in the presence of album covers, signed guitars, and fine-looking poster art, then feng shui furniture arrangements, fake grass plants, and waterfalls. Instead of trying to be someone I am not, I put what I love and what I do into one big ball of hairy fun for my patients and employees to enjoy.
It's About Connecting with People
People like to participate. Patients used to bring me CDs full of music (now they bring me USB drives). They request music to play and recommend bands they want me to check out (even 80-year-old women). I love this interaction. It gives me a little more insight into who my patients are, making me better at connecting with their needs, making me a better dentist. I can easily connect with them since we are coming from a commonplace, instead of immediately inundating them with the dental jargon to which they have become accustomed and defensive, like treatments, teeth numbers, and surfaces (often met with tears or blank stares). The jargon is necessary, but we like to bring the dentistry while whistling some Pink Floyd or Widespread Panic and giving you guitar picks with the typical to-go toothbrush.
Please don't misunderstand. We take dentistry very seriously here. It's a balance. It's the real deal. We take pride in what we do and like to learn how to make your time here better. Your time is as valuable to us as it is to you. We just don't take ourselves too seriously. I like to be straight up; and luckily, music paves the way. One of my favorite patients wrote this if this gives you an idea of how my patients roll:
"I have been a patient of Dr. Cook's – "The Doc That Rocks" – for more years than I care to remember. I was just in yesterday and I over-heard the words LET IT BLEED when I walked in. If you're not a regular patient, those words would send shivers down your spine–but in Dr. Cook's practice, those words come from the many overhead speakers throughout the office. You see, Dr. Cook is a music lover, and those were the lyrics to the Rolling Stones' song LET IT BLEED. If you were expecting PAIN, you came to the wrong dental office. You're more likely to hear Tom Jones sing AFTER THE TEARS over the speakers before you hear them spoken by a patient, and yes, that's the Rolling Stones singing TOO MUCH BLOOD – not anything said by the dental hygienist. It's possible that the words IT'S ALL OVER NOW can be said at the same time by Dr. Cook as the Rolling Stones sing the same words from the song lyrics. Take some advice from a guy who gets "woozy" by just getting a haircut: The next time you need dental work or professional teeth cleaning–sorry, Uncle Clem: tooth cleaning–stop by the dental office of Dr. Cook and listen to some great tunes. Patients might as well entertain you while I attended to you have your dental needs. And when you leave, it's possible that our courteous staff will send you off with BOTH the words "Keep on smiling" while Tom Jones sings the lyrics to the song KEEP ON SMILING."
That's awesome. My patients rock it hard. Therefore, I try to be myself. Because that's what I am best at, in addition to dentistry, of course. Luckily over the years, people have liked the laugh better than the lab coat. It's been rewarding on many levels, whether I have made someone love their smile or I have eliminated the fear of pain and dental anxiety. So, instead of waterfalls, my patients get Ms. Pac-Man and Golden Tee.
I want my staff to be themselves, too. It is what makes my practice what it is; an awesome place to work and play hard, listen to great music, all while giving our patients outstanding dental care. Not to mention we usually manage to have a few laughs somewhere between getting you clean, numb, and paying the bill. A dentist's office is a scary place for a lot of folks. We try to distract you, put you at ease, and make you feel like you're going someplace to hang out and have a laugh, at the same time giving your choppers top-notch services.