We Will Rock Your Smile!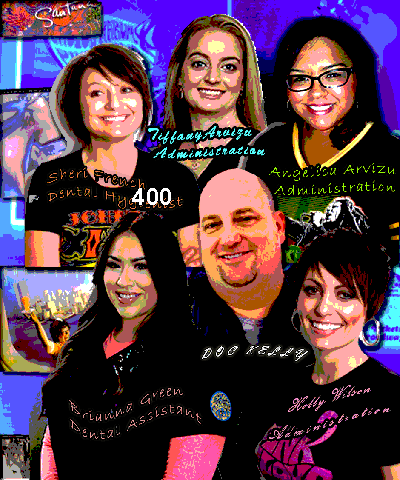 Our patients' dental health is our primary goal. We all take great pride in providing outstanding patient service and delivering dental health education. Having well-informed patients who understand their options and what is involved in their dental procedures is our mission. We will do everything possible to ensure you a pleasant visit.
Our website is here to provide you with an extension of that care. As you navigate our site, you will find a wealth of information about dentistry, dental care, procedures, and treatments. You will also find an overview of our practice, including our Doc Kelly and staff, office hours, insurance, appointment procedures, maps, directions, a virtual tour of our office space, before and after images of actual patients, and contact information.
We practice Anti-Anxiety dentistry. Our Rock' n Roll decor helps many people forget they are in a dental office, allowing them to focus their attention elsewhere.
A lot of my patients feel at ease in the presence of album covers, signed guitars, and fine-looking poster art, then feng shui furniture arrangements, fake grass plants, and waterfalls. Instead of trying to be someone I am not, I put what I love and what I do into one big ball of hairy fun for my patients and employees to enjoy.

Don't misunderstand; we take dentistry very seriously here. It's a balance. It's the real deal. We take pride in what we do and like to learn how to make your time here better. Your time is as valuable to us as it is to you. We just don't take ourselves too seriously. I like to be straight up, and luckily, music paves the way.

- Doc Kelly