Kelly Jorn Cook, DDS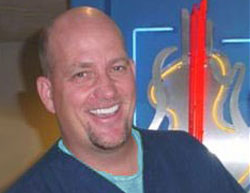 Dr. Kelly Jorn Cook has provided cosmetic and general dentistry for over 20 years. A Kansas native and undergraduate of Kansas State University, he received his dental degree from the University of Nebraska in 1989. He completed advanced training in cosmetic dentistry, smile design, and veneers.
Dr. Cook is a member of the following professional societies:
Doc Kelly moved to the Southwest to open a dental practice in 1990. As dental techniques and technology improve, Doc Kelly continually upgrades his dental knowledge, techniques, and in-office technology.
His alternative approach to dentistry is in the office atmosphere. While providing the highest quality of dentistry, he creates an environment of more fun and less fear. Most patients call him Kelly or "Doc." His natural ability to put people at ease with honesty, a sense of humor, and approachability keep long-time patients coming back and continually referring their friends and family. His "chair-side manner" is usually accompanied by a large smile and a big laugh. Don't expect a business card; you are more likely to receive a guitar pick with the office information on it.
A blue-collar boy at heart, the "doc that rocks" brings his passions to his practice. Artist-signed guitars, posters, and albums surround the office. Golden Tee, Asteroids, and Ms. Pac-Man make the front office more of an arcade than a waiting room. Kelly has been featured in local newspaper articles and television spots highlighting his unique office space and up-front approach to dentistry and genuine patient care. The smile designs he has completed speak for themselves.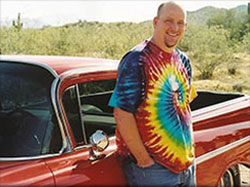 As a top dentist, Kelly has found the balance between being the doc that rocks and keeping it simple. He continually upgrades his ability and knowledge through continuing dental education and encourages & supports his staff in doing the same. What you see with the doc is what you get; That's great dentistry and a really good time.
The doc currently resides outside Maricopa. He enjoys live music, golfing, fishing, camping, traveling, and hanging out at home with his wife and ten dogs!