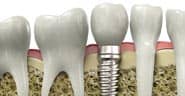 A dental implant is an artificial replacement for a tooth root that is used to support a single tooth or a group of teeth. The titanium implant is shaped like a screw and surgically placed into the jawbone to secure a replacement tooth, a dental bridge, or implant-retained dentures.
A dental implant may be the best tooth replacement available. Dental implants are made from surgical grade hypoallergenic titanium and anchored surgically into the jawbone. In a process known as "Osseointegration", the jawbone will fuse with the implant making it an extremely strong tooth root replacement.
Advantages of Dental Implants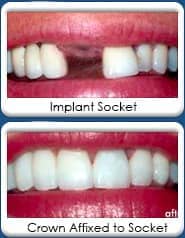 When a tooth's root is diseased or has been damaged beyond repair and the jaw can no longer support the tooth, the best replacement may be a single-tooth implant consisting of an artificial dental crown that is connected to the implant with a post or abutment.
Implants are the restoration of choice for replacing missing teeth. Fixed and removable implant-retained dentures and All-on-4® implant retained dentures provide patients with superior denture retention and function.
Dental Implants have none of the negatives associated with bridgework or conventional dentures. Dental implant(s) can fully restore the biting and chewing force as natural teeth.
Dental Implant Placement Procedure Time Frame
Once an implant has been placed in the jaw, the bone around the implant needs to heal for six weeks to six months. After this period of healing, a support post called a healing abutment will be placed on the implant, and finally, a new crown can be placed on the abutment.
Based on individual circumstances, a tooth could be placed on an implant the same day the implant is placed. Dental implants look and feel so natural, you may forget you ever lost a tooth.
Time to complete: Doc Kelly usually requires three to four dental visits to place the dental implants and for the placement of the permanent dental crown. The fabrication of dental crowns/bridgework may take between four to six weeks and additional healing time may be required taking up to eight weeks for the procedure.
1st procedure visit: Doc Kelly will X-ray and then decide with his oral surgeon the placement location for each implant. Molds for crowns and/or bridgework are taken and sent to a dental lab.
2nd visit: The oral surgeon will perform the implant placements. Doc Kelly may fabricate a temporary bridge and/or crown for the implant until the permanent restoration is ready.
3rd visit: Healing/progress visit.
4thd visit: Doc Kelly will remove the temporary bridge or crown and replace it with the permanent dental prosthetic.
There are a few methods of placing dental implants. This procedure method is based on the patient's age, supporting jawbone structure, dental health, and the patient's unique situation. The placement procedure and the healing time vary from person to person. Depending on the patient's condition, a temporary immediate functioning tooth can be placed after surgery.
Dental Implant Placement Methods
The feasibility of dental implant placement requires conventional X-rays to evaluate manually placed implant locations.
Unloaded dental implants procedure

Dental implants are placed into the jaw then allowed to heal for several months before attaching dental crowns or bridges.

Loaded dental implants procedure

"Teeth in a Day" is an immediate loading procedure where teeth are extracted, and prosthetic teeth are attached the same day. Not all patients are candidates. Age and health will determine if the procedure is a viable option for the patient.
Single Dental Implant

Multiple Implants

All Teeth Implants

Dental implant Risks
The biggest risk associated with dental implants is periodontal implant infection. Attention to oral hygiene and continued checkups are crucial to long-term implant success.
Implant Positioning - If the placement of the implant is not in an optimum location, the integration process may not progress properly.
Breakage - Implants are very strong, but they can fracture or break
Infection - Gum or bone infection
Smoking - Smoking decreases necessary blood flow for proper healing and impedes the body's healing ability
Poor Oral Hygiene - Peri-implantitis around dental implants is similar to how gum disease forms around a natural tooth. Poor oral hygiene can lead to infection, especially in the early post-implant stages of healing.
Advantages of Kelly Jorn Cook, DDS
Advanced implantology with our 3-D cat scanner allows for precision dental implant placement. We provide single crown implants, implant-retained dental bridgework, and implant-retained dentures. Advanced procedures like All on 4 and Teeth in a Day provide our patients with cost-effective implant options that meet their needs and allow them to have beautiful new teeth in just a few hours.
Call Kelly Jorn Cook, DDS today to make your appointment!