Orthodontic Correction for Adults, Teens, Brides
Are you a good candidate for Invisalign?
We offer a free no-obligation Invisalign consultation.
Our computer-generated imagery, we can show you what your smile will look like after Invisalign.
Outstanding Results in Correcting a Crooked Smile
Invisalign straightens your teeth with a series of clear, virtually invisible custom-molded aligners. Have the smile you've always wanted - without the metal braces.
Conditions Invisalign can Treat
The Invisalign System is an alternative to braces for people with full adult dentition and complete jaw growth, and it is effective on a wide range of patients. Both teenagers and adults can straighten their teeth with Invisalign.
Crowding - Teeth may become poorly aligned when crowding occurs. As teeth become more crowded, the gums over the roots of extremely crowded teeth become thin and recede. Impacted teeth (teeth that are blocked from coming in) contribute to crowding and may become abscessed requiring surgery. Other problems include a poor dental bite and an undesirable smile.


Spacing - Gaps between teeth occur when teeth are missing or too small, or the dental arch is very wide. Poor appearance is the most common complaint from those who suffer from excessive spacing.


Overbite - lower incisors (four front teeth) are too close to or bite into the gum tissue behind the upper teeth. This can cause discomfort and significant bone damage. A deep overbite can also contribute to excessive wear of the lower incisor teeth. An overbite can also lead to greater issues such as Temporomandibular joint disorder (TMJ).


Underbite - Underbite occurs when the lower teeth protrude past the front teeth. This can be caused by an overgrowth of the lower jaw, Underbite of the upper jaw, or both, and/or missing upper teeth. Underbite can prevent the normal function of front teeth or molars and leads to excessive tooth wear. An Underbite can cause painful jaw and joint problems and lead to greater issues such as Temporomandibular joint disorder (TMJ).


Open-bite - The lower upper incisor teeth do not make contact with the lower incisors when biting. The open space between the lower and upper-front teeth causes chewing pressure to be placed on the back teeth. Excessive biting and chewing pressure on the back teeth makes chewing less efficient, may contribute to significant tooth wear and may cause a tooth to fracture. Open-bite can also lead to greater issues such as Temporomandibular joint disorder (TMJ).


Crossbite - The upper teeth bite inside the lower teeth (toward the tongue). Crossbite can cause wear of the teeth, gum disease and bone loss. Crossbite causes biting and chewing difficulties.
The Invisalign® System
Invisalign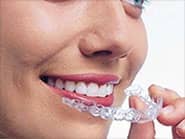 is an orthodontic treatment that provides an alternative to metal braces. Unlike traditional braces, Invisalign is virtually invisible and removable.
The Invisalign system works through a series of custom aligners. Many adults and older teens are candidates for Invisalign.
The Clear Alternative to Metal Braces
Invisalign straightens your teeth by using a series of clear, removable aligners. Approximately every two weeks, dental aligners are replaced with new ones that move and straightening teeth in small increments.
Invisalign uses clear aligner trays that fit closely to teeth; many people will not even see them.
The aligners are smooth and comfortable. There are no sharp or jagged edges to irritate the inside of your mouth.
Invisalign helps correct a wide range of conditions, including spaces, overbites, underbite, crossbite, and crowding.
Aligners easily snap in and out of the mouth.
Dental hygiene routines are easy with Invisalign, just brush and floss normally before reinserting the aligners.
The Invisalign system requires orthodontic visits every 8 to 10 weeks.
Invisalign Procedure and Time Frame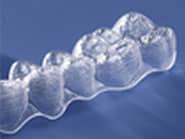 Time to complete - Invisalign time varies with each patient and the type and amount of correction. The process takes between 9 to 15 months.
1st procedure visit - Doc Kelly will take impressions of your teeth and digitized them. From these impressions, we create and manipulate a computerized image of the teeth.
Using 3-D modeling software, Doc Kelly will plan out the movement of the teeth. Invisalign will then create sets of the aligners and send them to the office every two weeks.
Subsequent visits - You will need to stop by the office every few weeks to receive your new aligners and for a quick check to ensure everything is progressing as expected. Each set of aligners gently adjusts your teeth for about two weeks before you progress to the next set. Every 8 weeks or so, we do an orthodontic progress check and make any necessary adjustments.
Invisalign Re-alignment Process
The aligners gradually reposition the teeth over time. Wearing Invisalign aligners for 20 to 22 hours each day achieves the best results. The aligners are removed to eat, brush, floss, and for cleaning. The aligners can also be removed during sports that require a mouthguard and for special occasions.
For more information, please visit Invisalign.
Call Kelly Jorn Cook, DDS today for a free consultation!