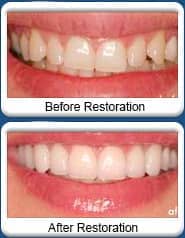 Porcelain dental veneers are the most effective cosmetic solution for many smile problems, including chipped, discolored, and badly worn teeth.
Porcelain dental veneers are the most esthetic, strongest and longest-lasting of all veneer materials.
Usually, only two visits are needed to have striking veneers custom-fabricated to your specifications.
Dental veneers will look and feel like your natural teeth. They are beautiful and will help you attain the smile you want.
Of all the methods available today for changing and improving the look of your smile, veneers are among the most popular.
Porcelain Dental Veneers Can Correct Many Cosmetic Dental Defects
Dental veneers can close gaps in your smile, correct poorly aligned or misshapen teeth, lengthen, straighten, make lingering stains disappear and whiten teeth to provide you with a perfect smile.
Dental veneers are a thin, strong layer of porcelain, custom made for each person based on your chosen smile design. The fabricated laminates are bonded to a prepared tooth. The preparation process involves removing a small amount of tooth structure to make room for the veneers. The dental lab then fabricates the veneers from impressions taken at the preparation appointment.
Porcelain Veneers Look and Feel like Natural Teeth
After the final placement, the veneers look and feel like natural teeth. Some advantages of porcelain veneers over bonding include increased longevity and resistance to staining. Veneers can create the smile you have always dreamed about.
Dental veneers can provide patients with a beautiful smile in a relatively short time without extensive dental work.
A dental veneer is a thin, slightly translucent, wafer of pearly-white porcelain that can be applied to a tooth or several teeth. Veneers are typically applied to the visible front teeth to create a beautiful smile that does not yellow over time.
Veneers are cosmetic only and cannot restore teeth that are dysfunctional or structurally damaged. Veneers are best when used to restore discolorations, superficial damage and can be matched to the shape, color, and alignment that provides the most complementary smile.
Benefits of Porcelain Dental Veneers
A beautiful and natural-looking smile
Boost confidence and self-esteem
Corrects multiple cosmetic imperfections
Durable and strong
Immediate results
Long-lasting - 15 to 20 years or longer
No recovery time necessary
Stain-resistant
Dental Veneer Placement Procedure Time Frame
Time to complete - Doc Kelly usually requires two dental visits to place dental veneers and takes between two to four weeks to complete the process.
1st procedure visit - Doc Kelly a dental mold of the teeth to be veneered. Doc Kelly will recommend the shade of white that best blends with the other visible front teeth and will create a natural-looking beautiful smile. The mold is sent to the lab for fabrication of your veneers. If a low-preparation option is needed, the teeth to be veneered are abraded to provide a better fit and bond to the tooth. Doc Kelly will create temporary resin veneers for the prepared teeth. The resin veneer looks like the permanent veneers but does not offer the durability of the ceramic.
2nd visit - Doc Kelly, removes the temporary veneers, cleans the teeth being veneered, and then he bonds the veneer to the tooth. The process is painless. You will leave with a beautiful permanent smile.
Dental veneering is a minimally invasive procedure with very few associated problems. Porcelain veneers are strong and durable; however, they may need to be replaced at some point. The procedure is irreversible; therefore once placed, veneers must remain intact and should be replaced when needed.
Dental work and service life
Our veneers are designed to withstand normal dental forces better than ultra-thin dental veneers. Veneers can last and look great for fifteen to twenty years, with good care, even longer. We find that individual results vary greatly depending on the habits of the patient. Biting hard foods like ribs, ice chewing, and nail-biting can damage the veneer over time and reduce the usable life.
Veneers costs
Veneer cost is very patient specific. The ceramic veneer is only part of the expense. The number of teeth and any required supporting dental work required needs to be considered. Doc Kelly will provide you with a cost estimate after examining your teeth.
Call for your free consultation today!