Permanent Partial Denture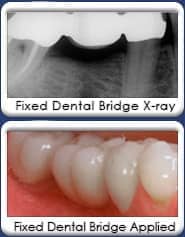 A fixed dental bridge replaces one or more missing teeth to help restore dental function and/or aesthetics. A dental bridge requires at least one tooth on both sides of the missing tooth or teeth to attach to and support the bridge.
There are four options for replacing missing teeth: a fixed-cemented dental bridge, a dental implant, a partial denture / removable bridge, or dentures.
A dental bridge restores needed chewing function and aesthetics. Tooth loss causes many problems, including the loss of chewing effectiveness, increased stress on the remaining teeth, and shifting of teeth behind and above the lost tooth. This can create an aesthetic dilemma for many people.
Fixed Dental Restoration Placement Procedure Time Frame
Time to complete: Doc Kelly usually requires two dental visits to install a dental bridge. Fabrication of the bridge may take between two to four weeks.
1st procedure visit: Doc Kelly  prepares the supporting teeth on both sides of the missing tooth or teeth for crowns. The teeth with the crowns serve as "dental abutments" to the bridge. The part of the dental bridge that replaces one or more missing teeth is called the pontics. Doc Kelly will prepare and shape the abutment teeth for the crowns to be fitted onto them. He then makes an impression of the teeth and surrounding gums which is sent to a dental laboratory so that the bridge can be fabricated. Doc Kelly fits the patient with a temporary bridge until the permanent bridge is ready.
2nd visit: Doc Kelly will remove the temporary bridge and cement the finished permanent bridge onto the teeth.
Life-expectancy of dental restorations
Porcelain fixed bridge - up to twenty years or more
The lifespan of a dental restoration depends on several factors, such as the location of the dental bridge, the number of teeth the bridge spans, and how hard the patient is on the restoration.
When a Fixed Dental Bridge is a Good Solution
When the jawbone is compromised and will not support a dental implant, or the patient desires not to undergo implant surgery, a fixed dental bridge offers a good solution for some patients who are missing one or more teeth in a span.
A partial denture may be a better option for patients who do not have the supporting tooth structure or where the number of missing teeth in the span it too great.
Call for your consultation today!