Create the Smile You Want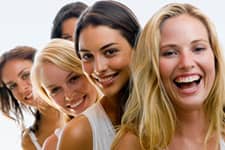 A smile makeover is a cosmetic and/or functional restoration of a patient's smile.
Our smile makeover procedures can transform your smile into the smile you have always wanted. We can restore smile aesthetics and dental function.
We can design a beautiful smile that works in to complement your face. Your eyes, lip-line, coloring, gum tissue contouring and face are all considered when a new smile is designed for you.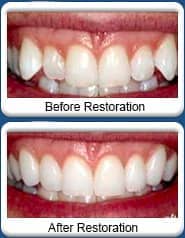 Veneers work well to reshape and resize a tooth. They are an attractive way to improve your smile because they achieve a very natural look with a very conservative tooth preparation (shaping).
Very little natural tooth structure is removed when veneers are bonded into place and the natural strength of the tooth is recaptured as well. We have found that this is the treatment of choice for smile enhancement if more than whitening is needed. For an outstanding smile makeover that gets noticed, we provide porcelain dental veneers and all-ceramic porcelain dental crowns.
We can make dramatic improvements with cost effective cosmetic dental options including: Dental Whitening, Dental Bonding and Composite Veneering and Cosmetic Dental Recontouring of chipped teeth.
A Smile Design is truly a work of art. Our goal is to redesign your smile so that it fits you, is beautiful, strong and natural-looking.
Smile makeover considerations
The way we look and feel about ourselves has a significant impact on the quality of our personal and professional lives. A non-pleasing smile can affect your emotional well-being as well as your health. You can look better, feel more comfortable, and interact confidently with others.
Answering "yes" to any of the following questions may help you determine if you want to consider a smile makeover.
Are your teeth crooked, chipped, or crowded?
Do you avoid smiling for photos?
Do you feel that your teeth are too large or too small?
Do you feel your teeth are old looking and make you look older?
Do you feel your teeth are stained or too yellow?
Do you have excessive tooth wear that makes you feel older?
Do you notice any dark fillings that are visible when you smile?
Do you tend to cover your mouth when you speak or smile?
Would you like to close spaces or gaps in your teeth?
What Can I Do About My Smile?
Doc Kelly can correct smile defects and provide patients with a beautiful smile. All of the following objections can be easily corrected:
Cracked or chipped teeth
Crowded or crooked teeth
Dull or discolored teeth
Exposed partial dental appliance hooks
Gapped or missing teeth
Poorly aligned teeth
Teeth that are too long
Teeth that are too short
Teeth that protrude a little
Uneven teeth
Visible fillings or crowns
Worn down teeth - Learn about: TMJ - Bruxism (Teeth Grinding)
Doc Kelly will help you choose the most appropriate solution to achieve your goals.
Call for your consultation today!